The Control of Asbestos Regulations 2006 prevents anyone from removing Asbestos Containing Materials (ACM's) unless they have received the correct training about how such works should be approached with minimal risks. Asbestos Removal Courses are needed to continue working when this substance is involved.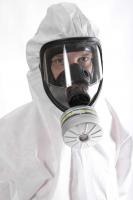 It is against the law for employees to attempt to remove asbestos if they have not had training, therefore employers will have to subcontract the work out to specialist firms. With this training, certain asbestos removal jobs can be done in house, (making your company large savings) such as the removal of the following:
Removal of small amounts of asbestos insulating board (ceiling tiles, fire door access hatches etc.)
Removal of asbestos cement (corrugated sheets, soffits, down pipes, cladding, firedoors, bath panels and soil stacks)
Removal of artex coatings
Removal of asbestos textiles (rope seals, gaskets, fire blankets)
Removal of asbestos composite materials (vinyl floor tiles, toilet seats/cisterns, fire hearths, window sills)
Removal of bitumen products (roof felt, cast iron pipes with paint, DPC's etc.)
The HSE is coming down tough on companies who flout the law by not giving their staff mandatory training, so book on this course and protect your workers and business!
Asbestos is a very dangerous substance that was used as a building material in the UK from the 1950s to the late 1990s. In a good condition asbestos is safe, but if it is disturbed and its particles become airborne it can pose a grave health risk. Therefore it is essential that it must be correctly identified, monitored, contained and managed, as exposure can result in serious illness and death (currently at a rate of 4000 a year). With the introduction of The Control of Asbestos Regulations 2006, those who deal with materials that potentially contain asbestos must be aware of the dangers of asbestos in buildings to minimise risks of exposure. Train your staff on this essential course before the HSE stop you!
| | |
| --- | --- |
| Course Duration | 1 Day |
| Certification | In-House Certificate |
| Delegates Per Course | Minimum No. of Delegates: 1 Maximum No. of Delegates: 15 |
| Location | Bristol, Blackburn, Birmingham, Andover, St Albans, Ashford, Cardiff, Coventry, Darlaston, Derby, Dundee, Durham, Edinburgh, Glasgow, Gloucester, Kent, Leeds, Leicester, Lincoln, Liskeard, Liverpool, London, Manchester, Milton Keynes, Newstead (Nottingham), North Wales, Norwich, Peterborough, Plymouth, Scunthorpe, South Wales, Southampton, Swansea, Taunton, Warrington, Wimborne, Yeovil |
At your own site
Please give us a call to arrange a custom quotation.
This Course Covers:
Introduction.

The properties of asbestos and effects of health
Types, uses and risks of asbestos containing materials in buildings and plant
General emergency procedures for accidental release of asbestos dust
How to avoid risk form asbestos
Visual examination of asbestos material under controlled conditions
Risk assessment and method statement
What Personal Protective Material is required
Practial works on simulated asbestos materials
The Health & Safety Requirements placed on employers and employees
Hazard & risk and the main causes of harm to workers
Health, safety and welfare provisions in the workplace
The importance of following safe systems of work, procedures and rules
How to work safely on certain asbestos products