PASMA Courses available across the UK at Training Centres or at your site.
Our Pasma Courses are available from £85 + VAT per person, including discount for group enquiries and fast turnaround of the PASMA Card and PASMA Certificate.
If you would like to book a course or have any questions just make an Online Booking or get in touch by email or telephone we'll do the rest.
Whilst our access tower training is based in Bristol, (with Free Tower Hire!) we can help you train for PASMA Qualifications in most major cities in the UK.
AT A TRAINING CENTRE ACROSS THE UK
CURRENT OPEN COURSE DATES (Further dates can be opened for Groups)
PASMA Mobile Access Tower Training: 
 
MPORTANT: Need a different date? If you have a group of 2 or more we can open further courses. 
For medium to large groups: We can visit your site and provide the Tower meaning *NO TOWER HIRE NEEDED*.
Or, our  Training Centre Available is:
Bristol   JULY: 18th, 29th  AUG:  2nd, 5th, 15th, 30th (plus more available on request)
Caldicot  Please contact us for dates  
Croydon  Every Friday  
Glasgow   Please contact us for dates 
Leicester  JULY:  17th, 23rd, 29th
Leeds   JULY:  26th
Manchester   AUGUST:  6th, 14th, 29th, 27th
Fareham   Every Wednesday
Southampton  JULY:  31st
East London   JULY:  24th, 30th
West London   AUGUST:  1st, 15th
Brighouse (Leeds Area)  Every Friday 
Wellington   on request
AT YOUR SITE 
We also offer onsite PASMA Training from £85+VAT per person - All Inclusive - No extra Charge for Certificates and Cards!
This is using our Tower and Advanced Guardrails so you don't have the hassle and expense of hiring the equipment and ensuring that it's the correct specifications.
We take care of all of that and it's *FREE OF CHARGE!*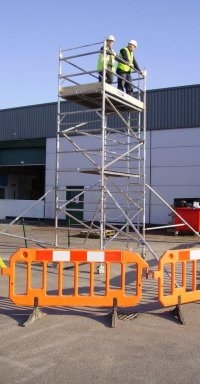 This PASMA Training scaffolding training course is essential for all users of both alloy and fibreglass mobile access towers that are approved to BS EN 1004:2004. It teaches delegates how to safely erect, move, inspect, dismantle, alter and use mobile access towers.
The PASMA (Prefabricated Access Suppliers and Manufacturers Association) certification is the most widely recognised qualification for use of all mobile towers.
It is recognised by the Health & Safety Executive and satisfies the "Provision and Use of Work Equipment Regulations 1998 (PUWER)" and the "Work at Height Regulations 2005."
We supply nationally and have high availability in the South West, especially Bristol. We will always offer competitive rates including leading rates for PASMA Training at our Bristol sites, and will always promptly supply your cards and certificates so that you can move forward with your projects on time.
This course is for delegates working above a 2.5 meter platform height.
| | |
| --- | --- |
| Course Duration | 1 Day |
| Certification | PASMA Certificate |
| Delegates Per Course | Minimum No. of Delegates: 4 Maximum No. of Delegates: 12 |
| Location | Bristol, Blackburn, Birmingham, Andover, St Albans, Ashford, Cardiff, Coventry, Darlaston, Derby, Dundee, Durham, Edinburgh, Glasgow, Gloucester, Kent, Leeds, Leicester, Lincoln, Liskeard, Liverpool, London, Manchester, Milton Keynes, Newstead (Nottingham), North Wales, Norwich, Peterborough, Plymouth, Scunthorpe, South Wales, Southampton, Swansea, Taunton, Warrington, Wimborne, Yeovil |
At your own site
Please give us a call to arrange a custom quotation.
This Course Covers:
Introduction to Mobile Access Towers
Overview of relevant Health & Safety Laws and Regulations including the Work at Height Regulations 2005.
The safe inspection of tower components, what to look for and how to look for it and the PASMA inspection tag.
The safe erection (3T method and Advanced guardrail), dismantling, moving, altering and use of a mobile tower.
Tower stability and Tying-in.
Hazards and risks associated with towers.
Keeping yourself properly protected - the correct personal protective equipment (PPE).
Your responsibilities when using a tower.
Practical test including assessment.
Multi choice answer test paper, questions and review.
Please note a pass mark of 80% and above applies to this course and must be achieved for delegates to gain their competency certification in PASMA Training.