We'll train your workforce - Discounts are available for single bookings and groups. We are based in Bristol and offer courses across the UK.
The IPAF Scissor and Boom Training Course (3a and 3b) is essential for all users of Scissor and Boom Lifts (Cherry Pickers). It teaches delegates how to safely operate both types of MEWPS (Mobile Elevated Work Platforms). We supply across the UK, and have high availability in the South West, especially Bristol. Priced from £185 + VAT per person with additional discount on Group Bookings of just 2 or more. This includes Certificate, card; there are no other costs.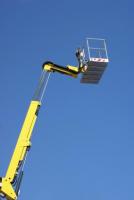 It also covers skills such as the selection and pre-inspection of the equipment, and delegates will be issued with a PAL Card.
The IPAF (International Powered Access Federation) certification is the official and internationally recognised qualification for use of such machinery.
It is recognised by the Health & Safety Executive and satisfies the "Provision and Use of Work Equipment Regulations 1998 (PUWER)" and the "Work at Height Regulations 2005."
Train your staff on this essential MEWP course by contacting us online or on 01179566499 and we'll do the rest.
CURRENT OPEN COURSE DATES (Please contact us if you need a different area)
IPAF Scissor and Boom Training
2018 Discount: £185 + VAT per person
Need a different date? If you have a group of 2 or more we can open other courses.
2018 Discount: £185 + VAT per person 
All inclusive of Certificates and Cards and Harness Supply on the day
Bristol   DECEMBER: 13th, 14th, 17th, 18th, 19th, 21st  JANUARY: 4th, 7th, 10th, 11th, 22nd
Taunton   JANUARY: 3rd, 7th, 22nd
Cardiff   DECEMBER: 17th   JANUARY:  9th, 17th, 25th, 30th
Birmingham   DECEMBER: 13th, 20th  JANUARY: 3rd, 7th, 9th, 11th, 16th, 17th, 18th, 21st
Liskeard   JANUARY:  17th, 30th
Southampton   DECEMBER: 21st  JANUARY: 9th, 15th, 23rd, 29th, 31st
East London   DECEMBER: 18th   JANUARY: 2nd, 11th, 18th, 22nd, 25th 
West London  DECEMBER: 13th, 14th, 17th, 18th, 20th   JANUARY: 2nd, 4th, 7th, 8th, 14th, 16th
Wembley    DECEMBER:  14th, 18th, 20th   JANUARY: 4th, 3rd, 9th, 11th, 15th, 17th, 21st
Wellington  DECEMBER 15th onwards
| | |
| --- | --- |
| Certification | PAL CardIPAF Certificate |
| Delegates Per Course | Minimum No. of Delegates: 1 Maximum No. of Delegates: 4 |
| Location | Bristol, Blackburn, Birmingham, Andover, St Albans, Ashford, Cardiff, Coventry, Darlaston, Derby, Dundee, Durham, Edinburgh, Glasgow, Gloucester, Kent, Leeds, Leicester, Lincoln, Liskeard, Liverpool, London, Manchester, Milton Keynes, Newstead (Nottingham), North Wales, Norwich, Peterborough, Plymouth, Scunthorpe, South Wales, Southampton, Swansea, Taunton, Warrington, Wimborne, Yeovil |
At your own site
Please give us a call to arrange a custom quotation.
This Course Covers:
All relevant Health & Safety Laws and Regulations including the Work at Height Regulations 2005.
Responsibilities of employees and their employers.
Introduction to the use of MEWPS.
Safe pre-use checks and inspection of the equipment, what to look for and how to look for it.
How to start and stop the machine.
Overhead obstructions and ground conditions.
Written test paper
Practical instruction on the machinery
The importance of keeping your equipment in good order with regular maintenance.
Keeping yourself properly protected - the correct personal protective equipment (PPE).
Having a go yourself - practical
Review of test paper, questions and training session.
Scissor Lifts (official IPAF category Mobile Vertical 3b) and Self Propelled Booms (official category Mobile Boom 3a) can be covered as single or both categories, with the option of holding the course at a training centre or at your own site (dependant on facilities).
Please also note that in order to pass this course each delegate will be assessed by a multi-choice question paper for which the pass mark is 80%. This must be passed in order to continue with the practical exercise for which the pass mark is 75%.
Please note we offer training on the following categories of machines - please book as far ahead as possible:
Static Vertical (1a)
Static Boom (1b)
All IPAF training courses are arranged through registered IPAF training centres, using qualified IPAF instructors.