Also known as Needle / Stick Training, this course is aimed at staff that may come in to contact with discarded syringes and drug related waste.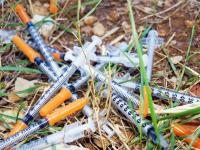 Training is fundamental in helping staff understand, identify and manage risks involved to prevent suffering a potential hazardous needle stick injury. Some of the sectors  effected are as follows:
Councils, emergency services , housing associations, private landlords, social workers, workers engaged in refuse collection and disposal, building maintenance and refurbishment, house clearance, amenity horticulture and street cleaning, as well as park rangers, community wardens and a wide range of community volunteers.
| | |
| --- | --- |
| Course Duration | Half day |
| Certification | In-House Certificate |
| Location | Bristol, Blackburn, Birmingham, Andover, St Albans, Ashford, Cardiff, Coventry, Darlaston, Derby, Dundee, Durham, Edinburgh, Glasgow, Gloucester, Kent, Leeds, Leicester, Lincoln, Liskeard, Liverpool, London, Manchester, Milton Keynes, Newstead (Nottingham), North Wales, Norwich, Peterborough, Plymouth, Scunthorpe, Southampton, Swansea, Taunton, Warrington, Wimborne, Yeovil |
At your own site
Please give us a call to arrange a custom quotation.
This Course Covers:
We can tailor this course to your specific requirements. The course covers contractible illnesses and diseases, legislation and prevention of injury as well as problem solving discussions with the course candidates such as identifying unexpected sites where sharps could be located and we also explore currently available equipment and its use.       
Course Content
​

Who is at risk
Definitions and scene setting
Reporting Injuries
Identifying Alternatives
National UK Guidelines
Standard Precautions (various types of protection)
Safer Needle Devices and Containers
National Strategies Saving Lives
Root Cause Analysis
Risk Factors for Transmission and Case Studies
Prevention Maps
Critical Questions and Proof of Learning